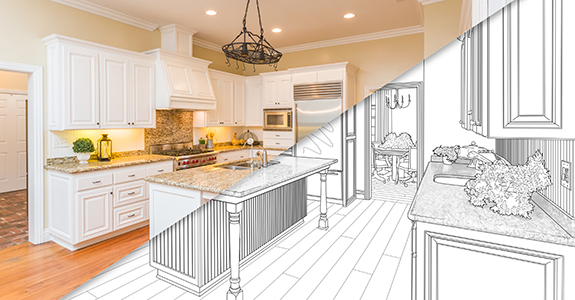 If you're looking for a remodeling contractor in Billings, MT who can help you update, enhance and improve your kitchen or bathroom, trust the remodeling experts at TECH Construction! As the local area leaders for all things involving remodeling, we're ready to help you improve the appeal of your home's critical areas.
Beautiful Kitchen & Bathroom Remodeling
Our specialties lay in bathroom and kitchen remodeling in Billing, MT because these are the areas of the home that lend the most value and comfort to homes. Whether you're cooking in the kitchen or glamorizing in the bathroom, having amenities and facilities that are comfortable, accommodating and alluring will go a long way towards improving your quality of life at home.
While we're able to deliver encompassing remodeling services to all of our customers, we're pleased to have several core focuses that allow us to stand as a leader across any and all kitchen and bathroom renovations, including:
New cabinets: Cabinets are literally the face of your kitchen or bathroom, which means they need to be the perfect blend of style, luxury and functionality. We're adept at helping you find and install the best cabinets possible for your renovation and can even advise in the proper position and type of cabinet to help you maximize accommodations.
Granite countertops: There's no countertop material so fine as granite. Granite is beautiful, luxurious, durable, sustainable and, above all, a great investment for your home. If you're interested in upgrading to granite for your countertops, trust our experts to help introduce you to the many benefits this material has to offer.
Updated plumbing fixtures: If your home is older, new plumbing is going to be vital during a remodel, to make sure you're getting peace of mind along with a new façade. We can help you retrofit plumbing installations, install new plumbing to accommodate new amenities or remove old plumbing that no longer serves a purpose in your space.
New tile: Tile is the perfect flooring material for kitchens and bathrooms thanks to its resistance, resilience and allure. Tiling your kitchen or bathroom lends to the appeal of the space and provides you with peace of mind that only comes with the longevity of this versatile material. We're happy to help you find the right color and texture tile for your renovation and can install it to an unparalleled degree.
Our capabilities don't stop with the specialties listed above—we can accomplish virtually any facet of kitchen and bathroom remodeling in Billings, MT and are ready to help you realize your vision.
Give one of our expert contractors a call today at 406-855-7640 to learn more about how we can approach your remodel with your unique vision in mind.